Newly Refreshed for 2023!
Our biggest update ever. For iOS, iPadOS & macOS.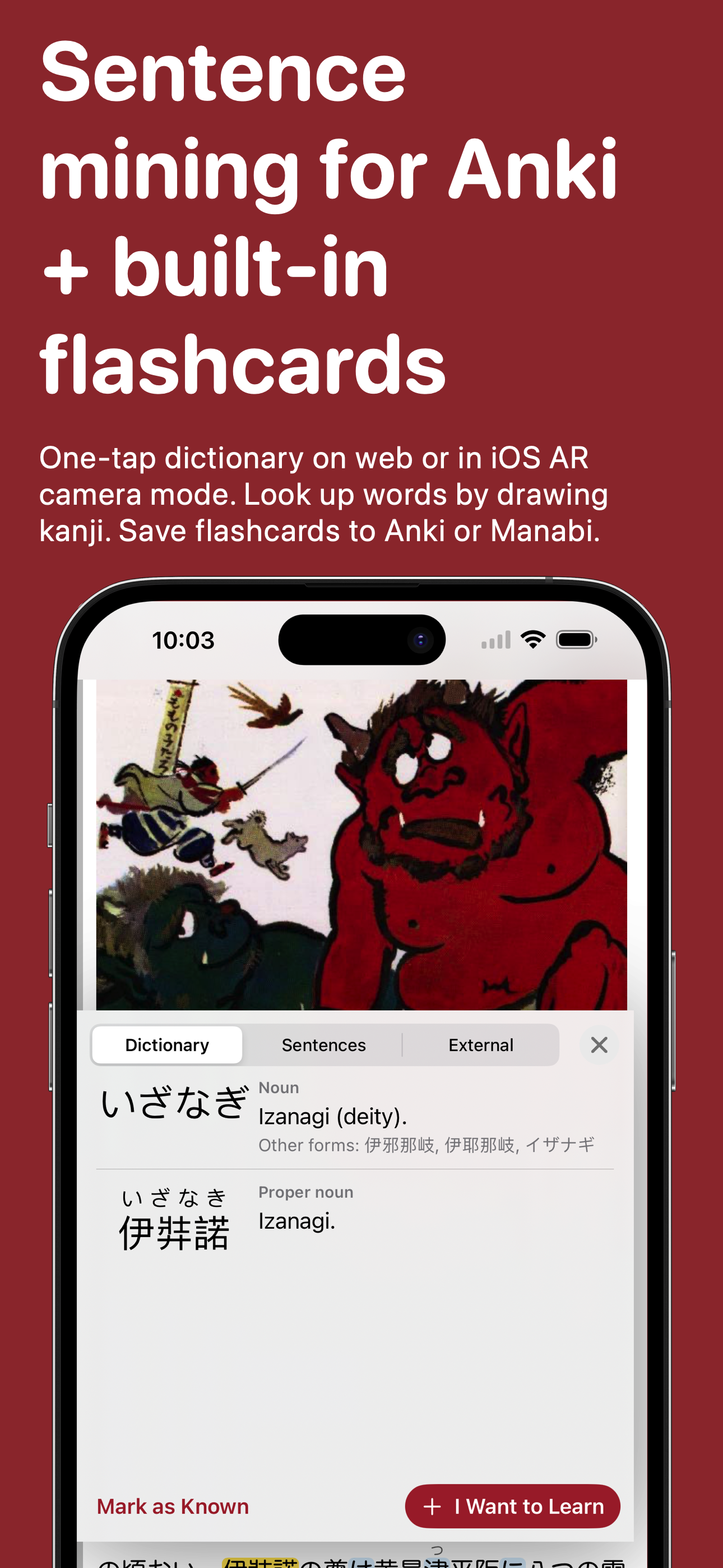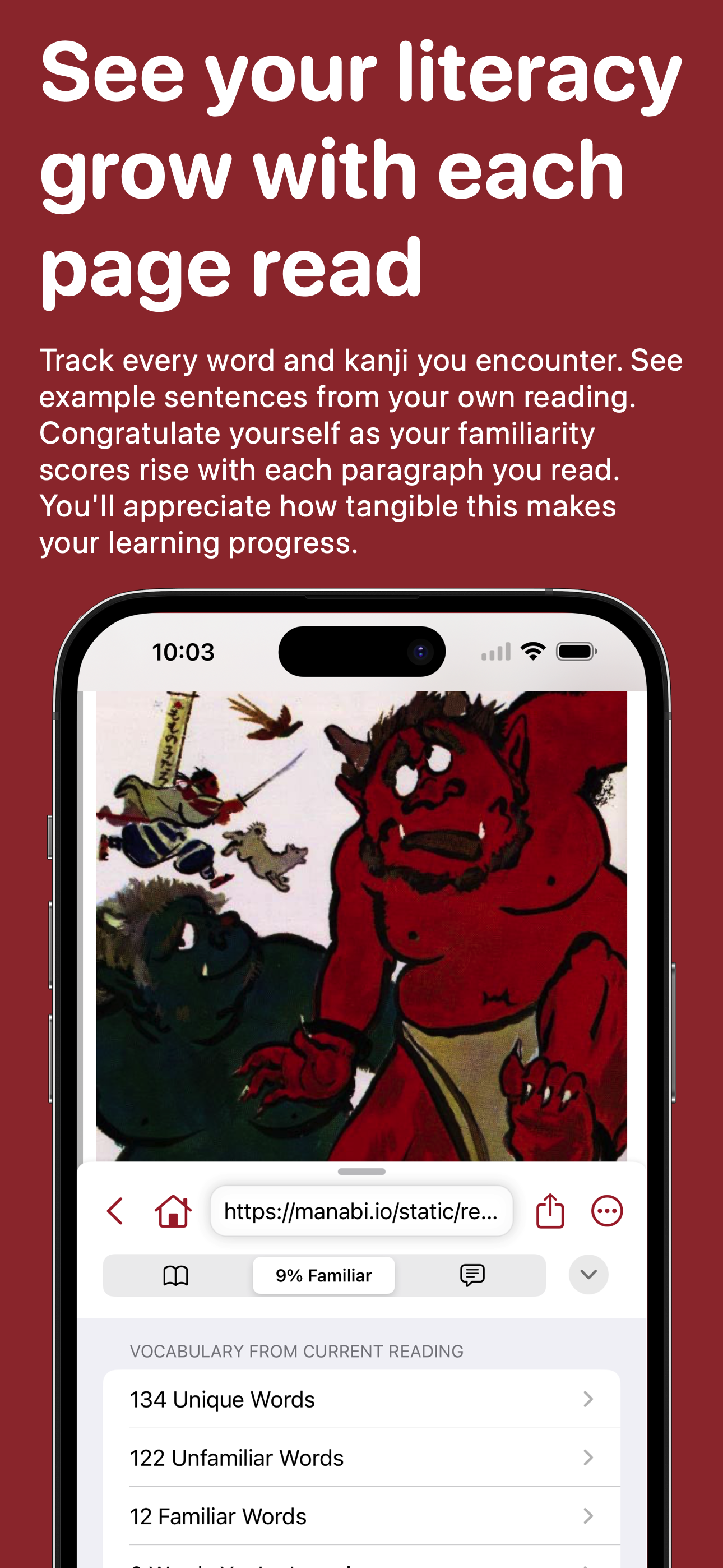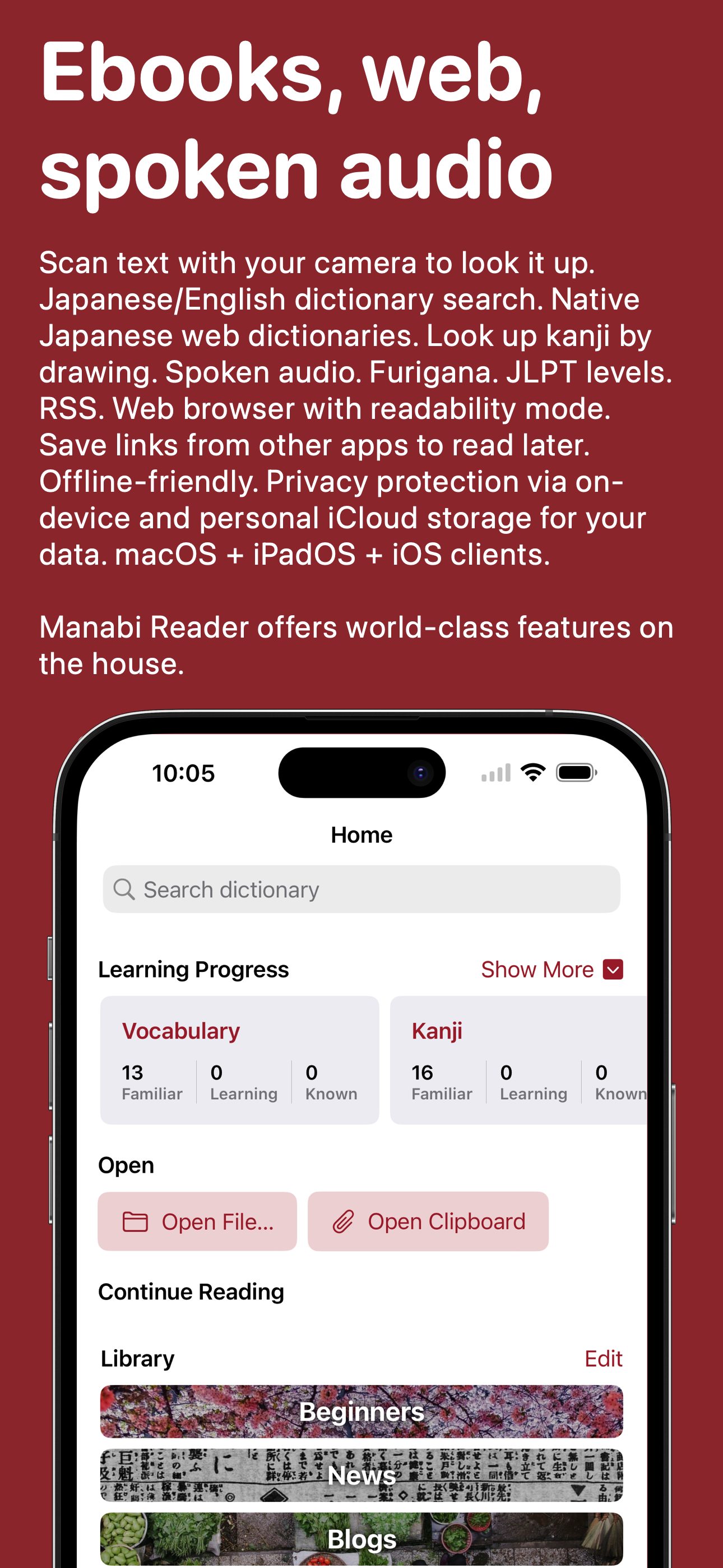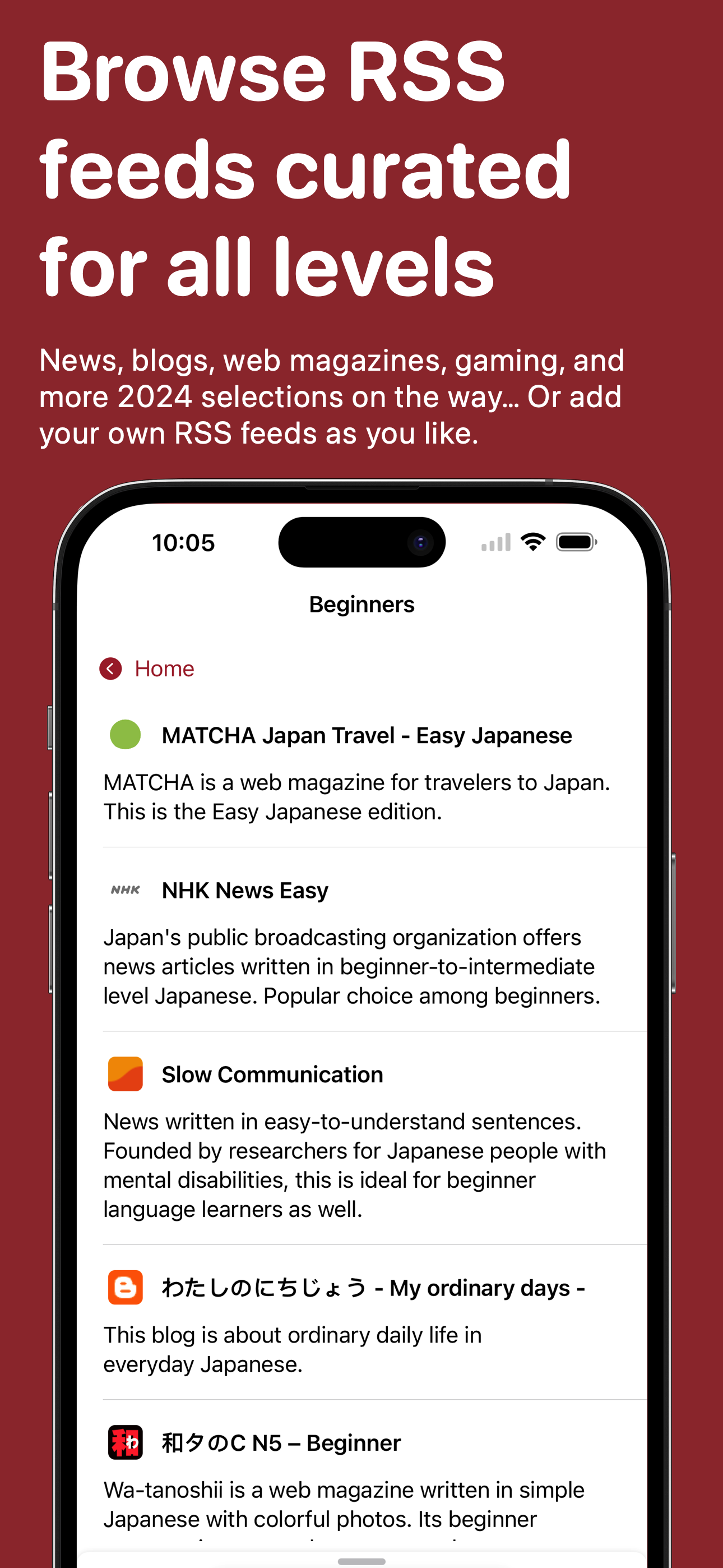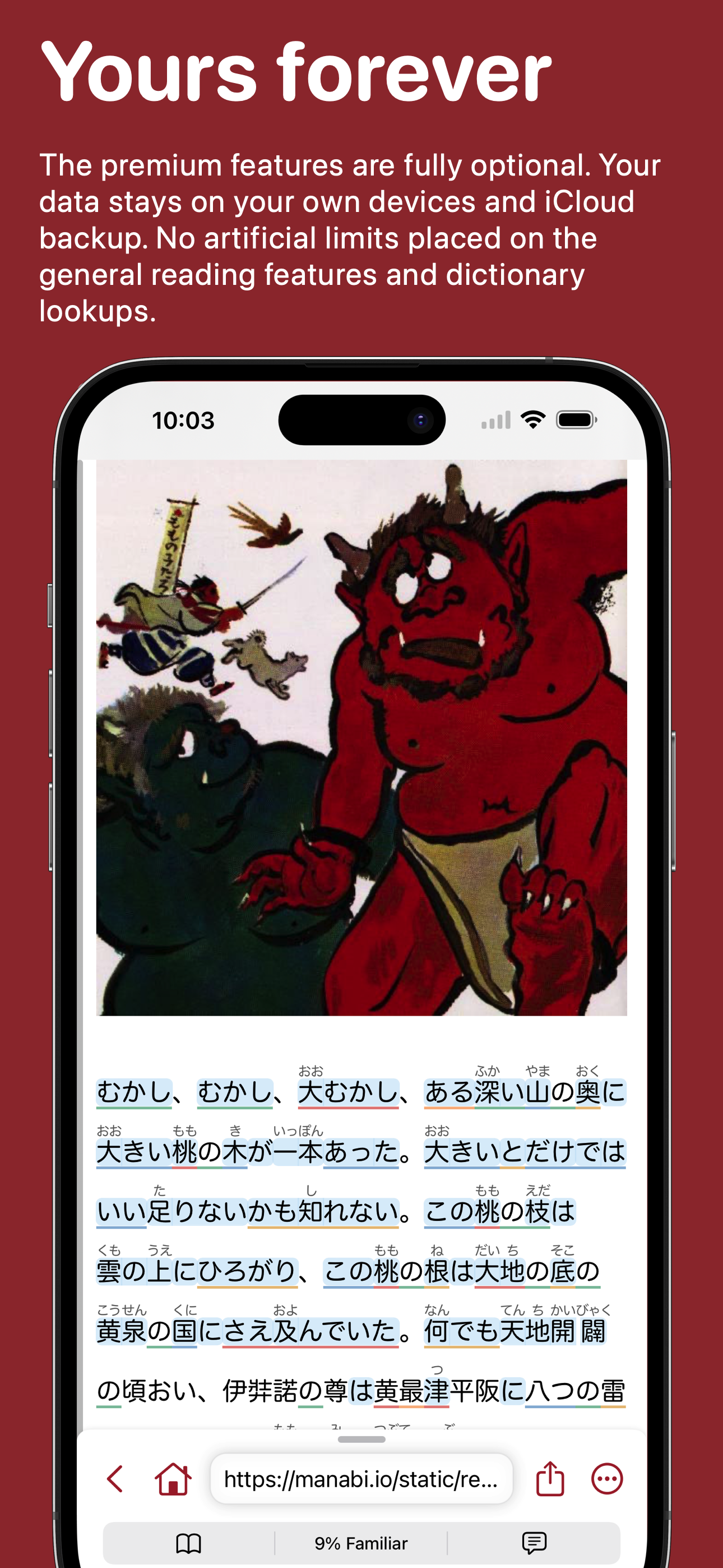 ---
Reading for pleasure is the surest path to fluency
Improve your Japanese through immersion. Enjoy reading native texts with Manabi Reader assisting you, and you'll see your literacy grow in real-time. Personalized reading analytics help make your progress feel more tangible than ever before.
Track your progress, word-by-word and kanji-by-kanji for every sentence you read. Download now to make your progress tangible.
Privacy sensitive. Unlike most other software these days, Manabi Reader keeps your reading data on your device and personal iCloud storage. All reading features and reading analytics are computed and stored locally on your device. The one exception is with Manabi Flashcards, which currently stores flashcard data on Manabi servers (Anki flashcards are not sent to our servers.)
Flexible pricing for optional premium features. The general reading, bookmarking, and vocabulary/kanji lookup experience is completely free. Premium features require a subscription. If you can't afford it, you may use the student discounted price (regardless of student status) at $1/month or $10/year.

Actively reading native texts, which Manbi Reader makes easy to find for your level, is one of the best ways to learn. It's satisfying to learn this way, compared to contexless vocabulary or kanji drills. If you'd like to closely track more details about your reading and comprehension progress, and gain access to easy flashcard creation features, you can purchase a subscription. You can learn more about premium features as well as access a preview within the app.
Packed with free features. See what percent of each article's vocabulary you're familiar with based on your reading history. Scan text with your camera to look it up. Japanese/English dict. Native Japanese web dicts. Look up kanji by drawing. Expanded JLPT levels. RSS. Web browser UI. Save links from other apps. Works offline. Readability mode. Tap words to look them up. Furigana depending on your familiarity with each word.
Anki for macOS and iOS flashcards have never been easier to create. Tap words to look them up. Tap to create flashcards, including the sentence excerpt with source citation.

In addition to Anki integration, you can use the Manabi Flashcards companion app.
Affordable pricing on optional premium features
You don't need to spend money to learn with Manabi Reader. If the world-class free tier features are enough for you, there's no pressure to upgrade.
Unlock Premium including flashcard creation (Manabi Flashcards or Anki) and comprehensive word and kanji tracking for $4 per month or $40 per year (US).
Student Discount available to current students or educators at a special rate. $1 per month or $10 per year (US).
Can't afford? Though the premium features directly support ongoing development, we value pricing equitability. If you're not a student and can't afford the regular rates, we understand – you may use the student discount rate. We don't verify.
---
---
Improve your Japanese through reading. Track your progress, word-by-word and kanji-by-kanji for every sentence you read. Download now to make your progress tangible.
---